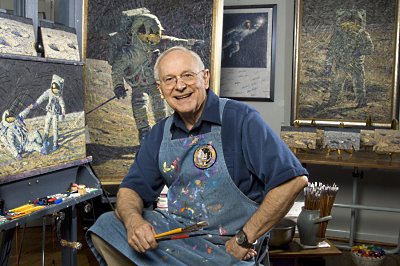 Alan Bean
Alan Bean's connection with his subject is like no other artist; in his 18 years as an astronaut he visited places and saw things that very few people have ever experienced first-hand. After resigning from NASA in 1981 he devoted his time to expressing his experiences through his art and over the years it has evolved into a mixture of painting and sculpture, often textured with lunar tools and sprinkled with bits of Apollo 12 spacecraft.
After receiving a Bachelor of Science degree in Aeronautical Engineering, he was commissioned a US Navy Ensign and on completion of training joined VA-44 flying F9F Cougars and A4D Skyhawks on a four year tour of duty. After a spell as a test pilot, he was assigned to VA-172 on A-4 Skyhawks before being selected to become a NASA astronaut in 1963 as part of Astronaut Group 3. He went on to make his first flight into space aboard Apollo 12, the second manned mission to land on the moon in November 1969 and was just the fourth person to set foot on the moon, exploring the desolate landscape of the Ocean of Storms.
In 1973 Bean was the spacecraft commander of Skylab 3 and spent 59 days in orbit around the earth and upon retiring from NASA had logged over 1,670 hours in space. When he began painting, he realised patches from his space suit were dirty with moon dust so he adds tiny pieces to his paintings, along with using a moon boot for texture, making each piece completely unique!