Normandy Veterans' Signing Event – 2nd April
Save the date for this exciting event at the Wendover Gallery where we'll be joined by highly-regarded WWII veterans who took part in D-Day and the Battle for Normandy as the Allies pushed for victory in Europe.
2 April 2023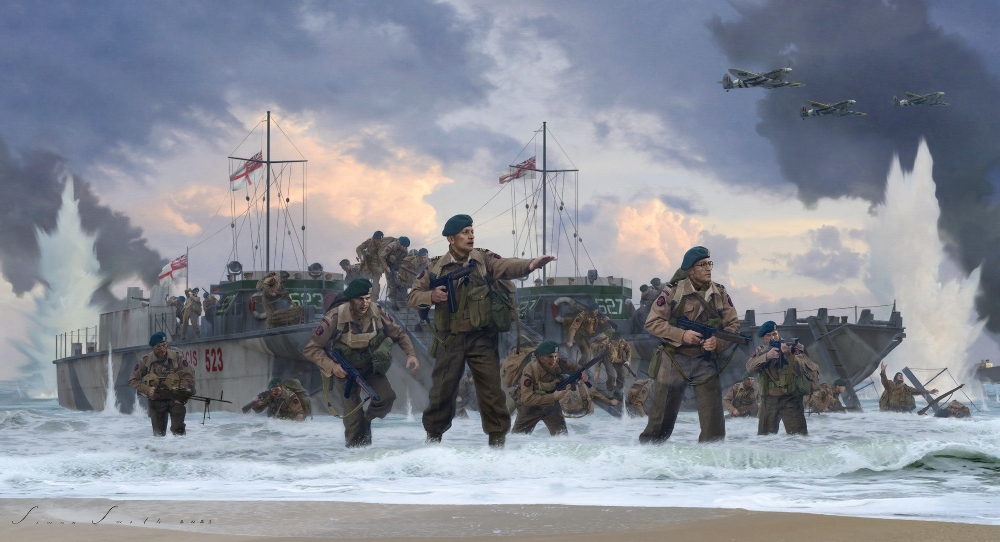 An ideal opportunity to have Simon Smith's latest D-Day piece FIRST TO LAND signed by the veterans!
Our special guests are looking forward to meeting enthusiasts and signing items for collectors – they include:
Wireman MICK JENNINGS Ld'H - in the early hours of D-Day ahead of the landings on Gold, Sword and Juno, Royal Navy LCTs of O and G Squadrons took US 4th Infantry Division troops ashore on Utah Beach. The LCT's were left stranded on the beach as the tide went out and the crews, rather than being easy targets for the German troops, ran up the beach to take shelter. Mick jumped into a foxhole occupied by an American Soldier who shared his K ration Hershey bar with him.
Warrant Officer 2 DAVID MORGAN - Serving with the Royal Signals, David landed on Utah Beach on D-Day +5, tasked with establishing a wireless link back to the War Office in London. Once the US Forces had taken Cherbourg, David was re-assigned to a smaller unit and continued the advance into Germany. Following the War, David extended his service with deployments in Germany, Egypt, Libya and Kenya. David left the army having served 22 years.
Private MERVYN KERSH Ld'H - due to land on Gold Beach D-Day +5, Mervyn was serving with the RAOC with the 17th Advanced Vehicle company and were called to action earlier, landing on Gold Beach on D-Day +3. Charged with vehicle logistics and their transit storage post-invasion, Mervyn served through Holland and Belgium crossing the Rhine into Germany by the end of the War. Hearing that Bergen-Belsen concentration camp had been liberated in April 1945, Mervyn took the emotional trip to visit the site and meet survivors.
Leading Aircraftman BERT WESTGATE - having joined the RAF in 1943, Bert initially trained as a Lancaster rear gunner, then prior to D-Day was posted to Compton Bassett, a Radar and Radio training facility, to undertake tactical wireless operator training. He was then re-posted to Portland, Weymouth, in early June 1944 and crossed the channel to Omaha beach on D-Day +6 with American forces where he undertook radio van operator duties following the 21st Army Group through Normandy, France and into Belgium.
Able Seaman DOUG SHELLEY - serving aboard HMS Milne, one of the biggest M class destroyers and part of the great Arctic convoys, Doug's crew were part of escort and deception duties during the D-Day Invasion. HMS Milne was one of the large fleet supporting ships around the British and Canadian invasion beaches.
Entry is completely FREE, all we ask is that you RESERVE YOUR TICKET in advance to help us manage numbers and make it relaxed and comfortable for everyone.
Our guests are happy to sign autographs for collectors and items purchased at the event over £60 can be signed free of charge.
Bookings are now being taken so please contact us to secure your place.