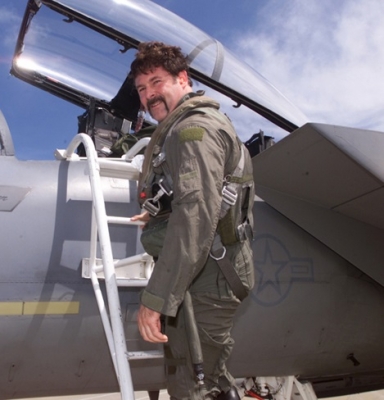 Jim Laurier
Jim Laurier is an award winning aviation artist and illustrator who graduated from the Paier School of Art in Connecticut in 1978 and has since gone on to live a varied and exciting life. From working in New York City illustrating science fiction magazines, earning his pilot's license, to having the rare opportunity to fly military grade fighter aircraft with the USAF after being invited to join the 'Air Force Art Program' and in 2016 becoming an author when he wrote and illustrated a book on WWII combat aviation titled "FIGHTER! Ten Killer Planes of World War Two".
Jim's experience flying various aircraft has helped him immensely in his work, giving him a good understanding of flight dynamics and various atmospheric conditions, which has brought a unique sense of realism to his paintings. Combined with his ability to blend technical and historical accuracy using traditional and digital painting methods, it's easy to see how Jim's artwork has made him one of the most recognizable military artists in the world.
He has been contracted by a vast array of clients, including The Pentagon, the US Air Force, Lockheed Martin, Columbia Pictures, Marvel Comics and The History Channel to name just a few and his paintings are displayed around the world in public and private collections – winning him a multitude of highly-respected awards in the U.S and Europe.