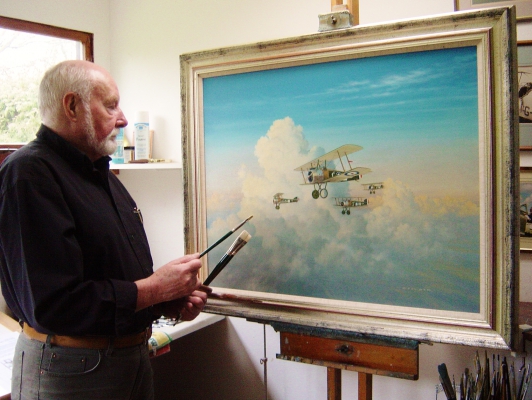 Gerald Coulson
Gerald Coulson has been painting professionally for over 30 years. The Fine Art Guild has placed him among the top 10 best selling UK artists no less than 15 times in 12 years - 3 times at No. 1.
Coulson's first love was aircraft, studying and drawing them at every opportunity, from an early age. His apprenticeship as an aircraft engineer, then as an RAF Technician and later an engineer with British Airways, have allowed him an insight and intimate knowledge of the aircraft he paints. He combined this with his drawing ability to become a Technical Illustrator of service manuals for Civil and Military Aircraft. Gerald's ability to capture these aircraft on canvas led to a painting career, which he took up full time in 1969; his work has been highly sought after ever since. Whatever the subject or type of aircraft, his ability to capture the realism and mood of the scene is unsurpassed, making him one of the most widely collected and highly regarded artists in the world today.
Gaining his pilots licence in 1960, going solo in under 4 hours, he still flies today and can regularly be seen buzzing over the Fens of Cambridgeshire in a Tiger Moth. A founder member of the Guild of Aviation Artists, Gerald is 4 times winner of the Flight International Trophy for outstanding aviation painting.