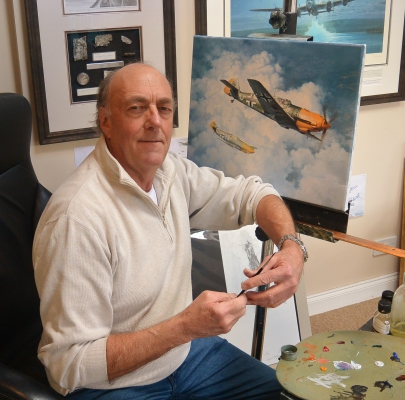 Robert Taylor
The name Robert Taylor has been synonymous with aviation art for over a quarter of a century and he is widely regarded as the world's premier painter of aviation subjects, and is certainly the most widely collected artist in the history of the genre.
Robert's aviation paintings are instantly recognisable. He somehow manages to convey all the technical detail of aviation in a traditional and painterly style, reminiscent of the Old Masters. With uncanny ability, he is able to recreate scenes from the past with a carefully rehearsed realism that few other artists ever manage to achieve. This is partly due to his prodigious research but also his attention to detail: Not for him are shiny new factory-fresh aircraft looking like museum specimens. His trade mark, flying machines that are battle-scarred, worse for wear, with dings down the fuselage, chips and dents along the leading edges of wings, oil stains trailing from engine cowlings, paintwork faded with dust and grime; his planes are real!
Robert's works have drawn crowds in the international arena since the early 1980s. He has exhibited throughout the US and Canada, Australia, Japan and in Europe. His one-man exhibition at the Smithsonian's National Air and Space Museum in Washington DC is hailed as the most popular art exhibition ever held there. His paintings hang in many of the world's great aviation museums, adorn boardrooms, offices and homes, and his limited edition prints are avidly collected all around the world.
The aviation paintings of Robert Taylor, more than those of any other artist, have helped popularise a genre which at the start of his remarkable career had little recognition in the world of fine art, and his work is the benchmark by which all others in this field set their standards.